Our special screening of Space Jam is next Saturday, and we're super excited!  Space Jam is maybe one of the most over-the-top and campy movies to date, and yet we all still love it!  We get to watch "his royal airness", Michael Jordan, give one of the most wooden acting performances we've ever seen.  And if that wasn't enough, he's right there with alongside evil space aliens and some the silliest characters from the Loony Toons.  It's "Who Framed Roger Rabbit?" for people who love sports and aliens.  And, it features maybe one of Bill Murray's greatest performances to date.  He seriously steals the show in every scene he's in (and showcases some pretty awesome B-ball skills).  
Screening this movie is a dream come true for us, and this is going to be a great kickoff to our Summer Mockbusters!  But not everyone agrees that this film is as amazing as we think, so we collected some of the funniest "One Star" reviews of Space Jam from Amazon.com  
Enjoy, and don't forget to come see the free screening on June 21st at 8pm!
"The kids like this film, but not even promised cuddle time can get me to watch it. Love you bugs, but not so much in this one."
"Save your money. Save your soul. Don't' waste your time with this nightmare unless you want it for a bad movie collection."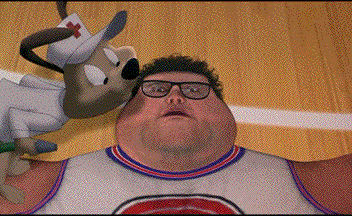 "I don't actually hate this movie, but it's high rating on Amazon really ticks me off. This really is not any good."
"I MITE RETURN THIS BACK .WHY BECAUSE I CANT EVEN WATCH IT I TRYED A REGULAR DVD PLAER MY XBOX MY BLUE RAY N DVD PLAYER AND NOTHING I DONT NOW WHATS WRONG BUT UMA TRY IT AGAIN IF IT DONT WORK IM GOING TO RETURN IT…"
"How could they? How could the masters of animation do this?  In one scene, one of the Monstars squishes poor Sniffles to death and Sniffles' eyes pop out. Absolutely disgusting. "
"everything it seems involving jordan is overrated and this film is no exception to the rules.very boring and one of the worst cartoon films ever period.and how do you mess up a cartoon film? just ask jordan."
"This was a children's movie. I am an adult. It was a waste of my time and money since there are no children in my family."
"My daughter was shown this movie in her public school classroom several times while she was in grade school. It wasn't until years later that I saw it, and I was HORRIFIED!!! This was a movie aimed at children??? What does a children's movie need a sexy bunny for? The lead female character was a very sexy bunny wearing skimpy clothing and "strutting her stuff" on the basketball court in a very provocative manner, until the male characters were panting, drooling, and clawing their way after her like a bunch of sick, depraved perverts. This scene was highly innapropriate for children, and is NOT the idea of womanhood that should be shown to boys or girls. Not only that, the idea was put forward that only a fortune teller with a crystal ball was able to discern the truth about what happened to the players abilities. This movie should be kept far, far away from children, and was truly deserving of zero stars."
""Some guy got my phone number and keeps texting 'Remember Space Jam?'  I don't need this."   — Michael Jordan